What is a Dental Implant?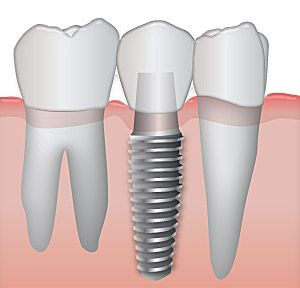 What a dental implant is… A dental implant has two parts: a root made of biocompatible metal and a custom-made tooth crown which is attached to it.
            How it works…
·         The root is anchored permanently in your jawbone, preventing future bone loss.
·         The crown does not rely on other teeth for support & doesn't affect surrounding healthy teeth.
·         An implant can replace one tooth or two, or the teeth in an entire jaw.
·         Implants can anchor dentures to prevent shifting & can replace partial dentures & bridgework.
·         Multiple implants & implant-supported dentures require no plates that cover the roof of your mouth.
What you can do… Consider safe reliable easy-care and natural looking dental implants, and call PGA Center for Advanced Dentistry for a consultation.
Categories:
Osseointegration, Dental Implants
Author:
Dr. Jay Ajmo
Date:
2015-06-26
We get many questions about the reason it can take up to a few months for dental implants to heal.  Though there are full mouth procedures where you can leave with a brand new smile in one day (Teeth Next Day), many times the implantation of one or a few dental implants must "osseointegrate" with your jaw.  Osseointegration is the fusing of the implant with your jaw bone.
OFFICE HOURS
Monday-Friday 8am - 5pm
Please feel free to give us a call or stop by anytime if you have a question or would like to schedule an appointment.
PGA Dentistry
Palm Beach Gardens Office
7100 Fairway Dr Ste 59
Palm Beach Gardens, FL 33418