7 Factors You Can't Ignore About Gum Disease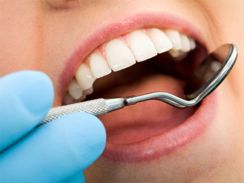 Gum disease is a chronic bacterial infection that is a major cause of tooth loss in adults and triggers an inflammatory response in your body.  Scientists believe it may be linked to other inflammatory diseases such as heart disease and stroke, Alzheimer's, diabetes, respiratory diseases, cancers, arthritis and osteoporosis.  As if this weren't worrisome enough, research suggests that the incidence of gum disease may be 2-3 times higher than previously thought.  This is alarming because only about 3% of those afflicted seek treatment.
Here are 7 factors that could make you vulnerable to developing gum disease:
*Tobacco & Alcohol- Smoking or chewing tobacco and drinking alcohol are the leading causes of oral cancers.  Doing both could put you at 15 times greater risk than others.
*Generic Susceptibility-About 30% of the population inherits the tendency to be six times more at risk for gum disease.
*Hormonal Changes- Life stages that bring natural changes in hormone levels include puberty, pregnancy, menopause and andropause.
*Stress- Stress has been linked to cancers and can make it more difficult for you to fight off oral and other infections. 
*Diabetes- Diabetics are at higher risk for infections including gum diseases which can make it more difficult to control blood sugar.
*Clenching or Grinding Teeth- Excess force on the supporting tissues of your teeth could speed their deterioration.
*Avoiding Dental Visits- Regular exams and confirmation of proper home care techniques can help you prevent gum disease. Our professionals can identify gum disease symptoms before you can and help you to halt or even reverse its progression.
Categories:
Osseointegration, Dental Implants
Author:
Dr. Jay Ajmo
Date:
2015-06-26
We get many questions about the reason it can take up to a few months for dental implants to heal.  Though there are full mouth procedures where you can leave with a brand new smile in one day (Teeth Next Day), many times the implantation of one or a few dental implants must "osseointegrate" with your jaw.  Osseointegration is the fusing of the implant with your jaw bone.
OFFICE HOURS
Monday-Friday 8am - 5pm
Please feel free to give us a call or stop by anytime if you have a question or would like to schedule an appointment.
PGA Dentistry
Palm Beach Gardens Office
7100 Fairway Dr Ste 59
Palm Beach Gardens, FL 33418