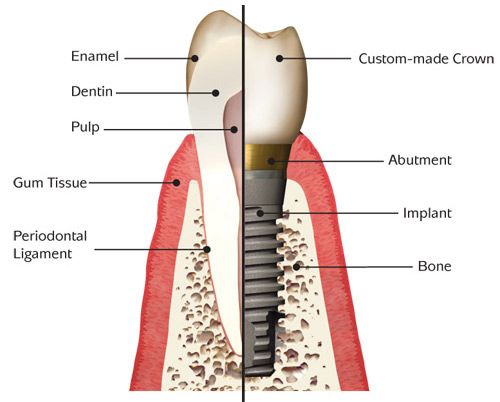 It's true that in most cases a denture or bridge brings back much of the form and function of missing teeth.  But a natural tooth does a lot more than help you cut and grind food and make for nice smiles.  It also plays an important role under the gumline where you can't see it…something a denture simply doesn't do. 
Dental implants are the closest cousin to natural teeth.  They are permanent false teeth anchored right into your jawbone, just like your natural teeth.  They're more stable than dentures, and eating is done with ease and comfort.  Many of Dr. Ajmo's patients have found implants give them a more positive self-image and confidence.  Call PGA Center for Advanced Dentistry today to schedule your complimentary implant consultation!
Categories:
Osseointegration, Dental Implants
Author:
Dr. Jay Ajmo
Date:
2015-06-26
We get many questions about the reason it can take up to a few months for dental implants to heal.  Though there are full mouth procedures where you can leave with a brand new smile in one day (Teeth Next Day), many times the implantation of one or a few dental implants must "osseointegrate" with your jaw.  Osseointegration is the fusing of the implant with your jaw bone.
OFFICE HOURS
Monday-Friday 8am - 5pm
Please feel free to give us a call or stop by anytime if you have a question or would like to schedule an appointment.
PGA Dentistry
Palm Beach Gardens Office
7100 Fairway Dr Ste 59
Palm Beach Gardens, FL 33418