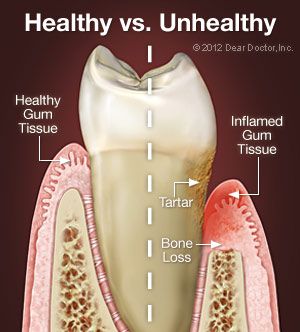 If you have gum disease, you're not alone. About 80 percent of U.S. adults currently have some form of the disease. It ranges from simple gum inflammation, called gingivitis, to a more serious disease that results in damage to the bone.
In gingivitis, the gums become red and swollen causing them to bleed easily. Most people can reverse this with daily brushing and flossing and seeing their dentist regularly. Untreated gingivitis can lead to periodontitis. The gums pull away from the teeth and form pockets that are infected. If not treated, the bones, gums and connective tissue that support the teeth are destroyed. At PGA Center for Advanced Dentistry, we take pride in providing the utmost care in prevention of gum disease.
Categories:
Osseointegration, Dental Implants
Author:
Dr. Jay Ajmo
Date:
2015-06-26
We get many questions about the reason it can take up to a few months for dental implants to heal.  Though there are full mouth procedures where you can leave with a brand new smile in one day (Teeth Next Day), many times the implantation of one or a few dental implants must "osseointegrate" with your jaw.  Osseointegration is the fusing of the implant with your jaw bone.
OFFICE HOURS
Monday-Friday 8am - 5pm
Please feel free to give us a call or stop by anytime if you have a question or would like to schedule an appointment.
PGA Dentistry
Palm Beach Gardens Office
7100 Fairway Dr Ste 59
Palm Beach Gardens, FL 33418