Three Reasons to Find Out More about Implant-Supported Dentures from PGA Dentistry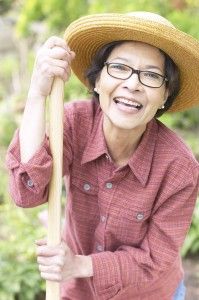 If you need to replace either your top or bottom row of teeth, consider implant-supported dentures from Dr. Ajmo and PGA Dentistry. Implant-supported dentures can provide patients with added functionality than traditional dentures.
This is because dental implants, which are made from biocompatible titanium, act like prosthetic roots, eventually bonding with the jaw in a way similar to your natural roots. As a result, the jaw will continue to produce new tissue, while patients can look forward to enjoying a bite that feels more natural.
Patients who choose implant-supported dentures can also look forward to having their dental implants placed and restored all at our Palm Beach Gardens office, instead of visiting another practice to have their implants placed.
But the biggest reason to ask Dr. Ajmo about implant-supported dentures is that they can last for a lifetime. Traditional dentures, meanwhile, have to be replaced every few years. Implant-supported dentures, on the other hand, can be cared for like natural teeth, and like natural teeth, they can last for years and years to come.
If you'd like to consider implant-supported dentures but aren't sure if you're an ideal candidate, call PGA Dentistry today. Dr. Ajmo can answer any questions you might have about dental implants and implant-supported dentures. Our Palm Beach Gardens office serves patients from all throughout South Florida.
Categories:
Osseointegration, Dental Implants
Author:
Dr. Jay Ajmo
Date:
2015-06-26
We get many questions about the reason it can take up to a few months for dental implants to heal.  Though there are full mouth procedures where you can leave with a brand new smile in one day (Teeth Next Day), many times the implantation of one or a few dental implants must "osseointegrate" with your jaw.  Osseointegration is the fusing of the implant with your jaw bone.
OFFICE HOURS
Monday-Friday 8am - 5pm
Please feel free to give us a call or stop by anytime if you have a question or would like to schedule an appointment.
PGA Dentistry
Palm Beach Gardens Office
7100 Fairway Dr Ste 59
Palm Beach Gardens, FL 33418