How Versatile Are Dental Implants?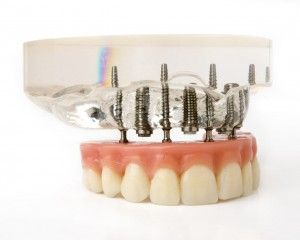 Part of what makes dental implants such a great choice for patients  who are implant candidates is that they can be used to meet a variety of needs. Whether you're missing one tooth or need to replace an entire row of teeth, dental implants can help. Using dental implants, Dr. Ajmo can anchor everything from a crown, a bridge, a partial, or a full denture. So if you're been thinking about dental implants, the question isn't whether dental implants can help you with your particular need—the real question is whether you're a candidate for implants.
It's easy to find out, though. If you'd like to find out if dental implants are right for you, give Dr. Ajmo's Palm Beach Gardens office a call to schedule your consultation visit with us. For dental implant candidates, implants can provide you with the versatile solution for your smile that you've been looking for.
Categories:
Osseointegration, Dental Implants
Author:
Dr. Jay Ajmo
Date:
2015-06-26
We get many questions about the reason it can take up to a few months for dental implants to heal.  Though there are full mouth procedures where you can leave with a brand new smile in one day (Teeth Next Day), many times the implantation of one or a few dental implants must "osseointegrate" with your jaw.  Osseointegration is the fusing of the implant with your jaw bone.
OFFICE HOURS
Monday-Friday 8am - 5pm
Please feel free to give us a call or stop by anytime if you have a question or would like to schedule an appointment.
PGA Dentistry
Palm Beach Gardens Office
7100 Fairway Dr Ste 59
Palm Beach Gardens, FL 33418