Dental Implants—A Modern Solution with Historical Roots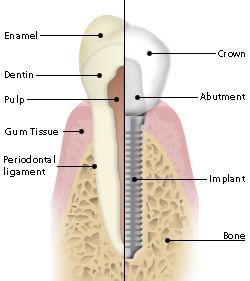 You might think dental implants are a modern invention, but did you know they've actually been around since 600 A.D.?
Of course, the technology's not same. Today, implants are made of biocompatible titanium instead of seashell, as they were in the days of the ancient Mayans. But though a lot's changed, the principle is the same. With the aid of a synthetic root, we can create a rock-solid bond between your new tooth and your jawbone.
Even after all these years, there's no better way for Dr. Ajmo to give your smile the healthy support it needs to last for years to come.
Save Your Smile with Dental Implants
Both your tooth and your root are essential for keeping your jaw strong. When you lose a tooth, your jaw's health suffers. That's because the section that used to support your tooth doesn't have a purpose anymore, and so it starts to wither.
To compensate, your remaining teeth shift to pick up the slack, creating the perfect environment for gum disease and tooth decay. And as decay becomes a larger problem, what started with just one tooth could become five or six in a few years' time.
That's why dental implants are so revolutionary, no matter what time period you're talking about. By replacing your natural root with a synthetic one, Dr. Ajmo is giving your jaw something to latch on to. The results is a strong bond between it and your new tooth, not to mention a smile that's better protected from gum disease and decay.
To find out more about this procedure, or to schedule a consultation visit with Dr. Ajmo, contact our Palm Beach Gardens office today. We're located next to the PGA National Resort and serve patients from all throughout the South Florida region, including Palm Beach, Juno Beach, Tequesta, West Palm Beach, and Stuart.
Categories:
Osseointegration, Dental Implants
Author:
Dr. Jay Ajmo
Date:
2015-06-26
We get many questions about the reason it can take up to a few months for dental implants to heal.  Though there are full mouth procedures where you can leave with a brand new smile in one day (Teeth Next Day), many times the implantation of one or a few dental implants must "osseointegrate" with your jaw.  Osseointegration is the fusing of the implant with your jaw bone.
OFFICE HOURS
Monday-Friday 8am - 5pm
Please feel free to give us a call or stop by anytime if you have a question or would like to schedule an appointment.
PGA Dentistry
Palm Beach Gardens Office
7100 Fairway Dr Ste 59
Palm Beach Gardens, FL 33418