Look Younger, Feel Better with Implant-Retained Dentures from Dr. Ajmo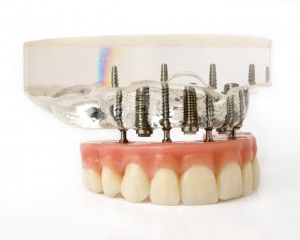 Does a complete smile help you look younger? Yes, and in more ways than you might think! Dr. Jay Ajmo, Palm Beach Garden's go-to implant dentist for years, offers implant-retained dentures at PGA Center for Advanced Dentistry for a youthful look and a secure, confident smile.
Implant-Retained Dentures Replace Missing Teeth
It's no secret that missing teeth make you look older. With the preventive and restorative dentistry available today, most people equate tooth loss with aging. Even a single missing tooth gives the impression that you're older. Chances are, if you've lost an entire arch of teeth, people assume you've reached "that age". Dr. Ajmo knows that there is more to tooth loss than aging. Accident, injury, and disease can all play a hand. By replacing missing teeth with an implant-retained denture, Dr. Ajmo can provide you with a complete smile, turning back the clock!
Implant-Retained Dentures Stop Jawbone Loss
Did you know that when you lose a tooth, your jawbone suffers? Holding the tooth's root gives the jawbone a purpose. Remove the root and bone begins to atrophy. When all the teeth of the upper or lower arch are missing, the loss of bone mass significantly contributes to an aged appearance. Dental implants stop this process by replacing the tooth's root with an implant post. As bone naturally fuses with the post, it also creates a solid foundation for your denture.
Implant-Retained Dentures Support Facial Structure
Your teeth help to support facial muscles and cheeks, making your face look rounder and younger. Just a few missing teeth allow muscles to sag and cheeks to appear sunken, aging you before your time. By replacing your teeth with natural-looking implant-retained dentures, muscles are held up and cheeks plumped. The benefit? A younger look and a great smile!
Want to find out more about implant-retained dentures? Call PGA Center for Advanced Dentistry and schedule your consultation today. We serve Palm Beach,West Palm Beach, Juno Beach, Tequesta, and other communities in the South Florida region with exceptional general, cosmetic, and implant dentistry!
Categories:
Osseointegration, Dental Implants
Author:
Dr. Jay Ajmo
Date:
2015-06-26
We get many questions about the reason it can take up to a few months for dental implants to heal.  Though there are full mouth procedures where you can leave with a brand new smile in one day (Teeth Next Day), many times the implantation of one or a few dental implants must "osseointegrate" with your jaw.  Osseointegration is the fusing of the implant with your jaw bone.
OFFICE HOURS
Monday-Friday 8am - 5pm
Please feel free to give us a call or stop by anytime if you have a question or would like to schedule an appointment.
PGA Dentistry
Palm Beach Gardens Office
7100 Fairway Dr Ste 59
Palm Beach Gardens, FL 33418