Palm Beach Gardens Dentist Jay Ajmo Releases Three New Websites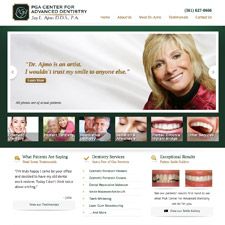 Palm Beach Gardens, FL - Dr. Jay L. Ajmo of PGA Dentistry in Palm Beach Gardens has launched three new websites, each of which represents one particular specialty of his practice. The implant dentistry, cosmetic dentistry, and general dentistry websites share the same sophisticated design but feature unique, customized content designed to educate readers about the procedures performed by Dr. Ajmo and to introduce them to the elements that distinguish PGA Dentistry.
In addition to being newly designed, the websites contain several advanced, interactive features, including searchable galleries of before-and-after photographs and high-resolution educational videos. All three websites are linked to Dr. Ajmo's blog, where prospective and current patients can stay up to date with developments at the practice and the latest technologies and techniques in dentistry. Dr. Ajmo chose to build the new websites using Einstein Medical's Lucid Content Management System, which will allow him to add and revise content regularly and with ease.
The heart of each website is the custom-crafted content, which gives readers the opportunity to learn about the procedures in which they are interested in a clear and engaging way. The content was developed to reflect the warmth and friendliness of Dr. Ajmo and his team of dental professionals.
A Comprehensive Implant Dentistry Resource
Palm Beach Gardens, FL implant dentist Jay L. Ajmo has earned a reputation as one of the foremost experts on dental implants in the United States. As such, he paid special attention to developing his new implant dentistry website.
The implant dentistry website contains a wealth of information about the unique range of services available at Dr. Ajmo's practice, which works closely with the area's leading dental labs and is the only practice in South Florida to be certified to offer the Prettau Zirconia Implant Bridge.
"Zirconia is superior in every way to acrylic as an implant material," states Dr. Ajmo. "It allows me to craft the most durable, natural-looking, and aesthetically pleasing dental implants possible. Zirconia dental implant bridges really are the next best thing to having a mouth full of your own strong, healthy teeth."
The implant dentistry website also contains information about how the oral surgery to place dental implants is performed and the 3D CT technology used in the planning phases of implantation.
About Dr. Jay L. Ajmo
Dr. Ajmo has been in practice since 1987. He founded PGA Dentistry in order to provide residents of Palm Beach Gardens and surrounding communities with superior implant, cosmetic, and general dentistry. He is considered the premier implantology expert in the region.
A diplomate of the International Congress of Oral Implantologists and the American Dental Implant Association, Dr. Ajmo is also a master of the Misch International Implant Institute and a member of the American Board of Oral Implantologists.
In addition to placing and restoring dental implants, Dr. Ajmo performs comprehensive smile makeovers, full mouth restorations, and numerous other cosmetic, restorative, and general dental procedures.
PGA Dentistry is located at 7100 Fairway Dr., Suite 59, in Palm Beach Gardens, FL 33418. Dr. Ajmo can be reached by telephone at (561) 627-8666 or via email through one of his three websites: www.pgaimplantdentistry.com, www.pgacosmeticdentistry.com, or www.pgadentistry.com.
Categories:
Osseointegration, Dental Implants
Author:
Dr. Jay Ajmo
Date:
2015-06-26
We get many questions about the reason it can take up to a few months for dental implants to heal.  Though there are full mouth procedures where you can leave with a brand new smile in one day (Teeth Next Day), many times the implantation of one or a few dental implants must "osseointegrate" with your jaw.  Osseointegration is the fusing of the implant with your jaw bone.
OFFICE HOURS
Monday-Friday 8am - 5pm
Please feel free to give us a call or stop by anytime if you have a question or would like to schedule an appointment.
PGA Dentistry
Palm Beach Gardens Office
7100 Fairway Dr Ste 59
Palm Beach Gardens, FL 33418