A Rejuvenated Smile with All-Porcelain Crowns from Dr. Ajmo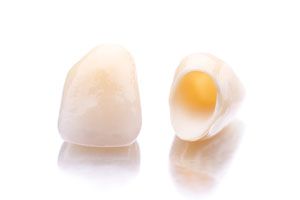 A fractured tooth isn't just painful; it can also cause trouble for your smile if it's not dealt with. That's why, at Dr. Ajmo's Palm Beach Gardens dental office, we offer metal-free, all-porcelain crowns.
With all-porcelain crowns, you can enjoy a dazzling, natural-looking smile that returns structure, strength, and function to a tooth that's suffered decay or damage. Moreover, your all-porcelain crown, once it's snugly in place, will help preserve your jaw's natural alignment while functioning simultaneously as a healthy tooth.
Dazzling Custom-Made Results                                          
Patients who need to cap a decayed or fractured tooth can look forward to enjoying a brand new smile in just a couple of short appointments.
It all begins with consultation visit with Dr. Ajmo, during which we'll discuss your options and begin to formulate your plan. Once your restoration is complete, you'll just need to come back to have your crown put in place. Following placement, you'll just need to care for your crown as if it were a natural tooth, with daily brushing and flossing and regular visits to our Palm Beach Gardens office.
Call our office today to find out more about all-porcelain crowns or to schedule an appointment with Dr. Ajmo. We serve patients from all around the Palm Beach area.
Categories:
Dental Implants, Bone Graft
Author:
Dr. Jay Ajmo
Date:
2015-05-11
Sometimes our patients have lost many teeth and waited quite some time to place dental implants.  Without your natural teeth, or implants in place, your jaw bone can begin to deteriorate.  This leads to the face having a "sunken" appearance.  For these patients it is necessary for Dr. Ajmo to perform a bone graft in order to create enough bone in the jaw for the implants to fuse with.  Learn more about bone grafts in today's blog article.
OFFICE HOURS
Monday-Friday 9am - 5pm
Please feel free to give us a call or stop by anytime if you have a question or would like to schedule an appointment.
PGA Advanced Dentistry
Palm Beach Gardens Office
7100 Fairway Dr Ste 59
Palm Beach Gardens, FL 33418
561-627-8666