Is Your Smile a Reflection of What's Inside You?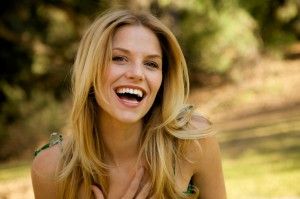 Your smile is the first thing most people will notice about you. And chances are, what they notice about it will affect their perception of you. As a poll conducted by the American Academy of Cosmetic Dentistry has pointed out, bright, dazzling smiles communicate certain traits like intelligence, happiness, and success.
Such a perception can have obvious benefits for your business and social relationships, but those aside, the question you should ask yourself is this: Does your smile reflect who you are on the inside?
With cosmetic dentistry from PGA Center for Advanced Dentistry, you can let your authentic self shine through.
For a whiter smiles, our Palm Beach Gardens office features in-office and at-home teeth whitening. For patients who have tried teeth whitening and weren't happy with the results, or who want a smiles that whiter and straighter, porcelain veneers are a popular alternative.
But these are just two of the cosmetic tools Dr. Ajmo is using to help patients turn their smiles into reflections of who they truly are. For more information on how we can help you, visit our primary website to take a look at all our cosmetic as well as restorative, implant, and general dentistry services.
You can also visit our site dedicated entirely to all of the cosmetic dentistry services Dr. Ajmo's Palm Beach Gardens office has to offer. If you have any questions, feel free to call our office to schedule a consultation visit. Dr. Ajmo would be happy to address any questions or concerns you might have.
Categories:
Osseointegration, Dental Implants
Author:
Dr. Jay Ajmo
Date:
2015-06-26
We get many questions about the reason it can take up to a few months for dental implants to heal.  Though there are full mouth procedures where you can leave with a brand new smile in one day (Teeth Next Day), many times the implantation of one or a few dental implants must "osseointegrate" with your jaw.  Osseointegration is the fusing of the implant with your jaw bone.
OFFICE HOURS
Monday-Friday 8am - 5pm
Please feel free to give us a call or stop by anytime if you have a question or would like to schedule an appointment.
PGA Dentistry
Palm Beach Gardens Office
7100 Fairway Dr Ste 59
Palm Beach Gardens, FL 33418