Are you tired of not having normal chewing function from the lack of missing teeth?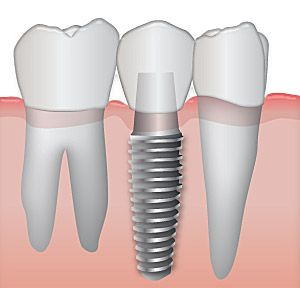 Are you tired of not having normal chewing function from the lack of missing teeth? Are you considering a removable denture or partial but do not want to deal with the hassle? If so, consider dental implants. Dental implants are the most advanced tooth-replacement option available today. Dr. Ajmo is pleased to offer dental implants at our state of the art office in Palm Beach Gardens, Palm Beach County, FL.
A dental implant is the alternate restorative option to the dental tooth root. Implants are made from titanium and are anchored into the patients jawbone to support a crown, bridge or permanent denture. The bone in the jaw grows around the implant, just like it would do for a natural tooth, but it is even stronger. An implanted supported crown, bridge or denture is considered different from removable restorations because usually no natural surrounding teeth need to ever be altered. The restoration is permanently attached to the jawbone, giving you a healthy, natural, and beautiful smile.
Regardless of your age, if you had extractions and are missing teeth, or if you are tired of those old dentures, you could be a perfect candidate for dental implants. Implants may replace single missing teeth, multiple missing teeth, and last but not least a full mouth of missing teeth.Call today for further information. We look forward to speaking with you!
Categories:
Osseointegration, Dental Implants
Author:
Dr. Jay Ajmo
Date:
2015-06-26
We get many questions about the reason it can take up to a few months for dental implants to heal.  Though there are full mouth procedures where you can leave with a brand new smile in one day (Teeth Next Day), many times the implantation of one or a few dental implants must "osseointegrate" with your jaw.  Osseointegration is the fusing of the implant with your jaw bone.
OFFICE HOURS
Monday-Friday 8am - 5pm
Please feel free to give us a call or stop by anytime if you have a question or would like to schedule an appointment.
PGA Dentistry
Palm Beach Gardens Office
7100 Fairway Dr Ste 59
Palm Beach Gardens, FL 33418