Dental Implant Surgery Side Effects and Risks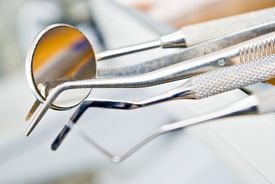 When adult tooth loss occurs, it should be addressed immediately. The longer that a gap is present in the mouth, the more likely it is for the jaw bone to become weakened or for the health of the surrounding teeth to become compromised. At Dr. Jay L. Ajmo's North Palm Beach cosmetic dentistry practice, we recommend dental implants to replace missing teeth. Dental implants are composed of an implant post that is secured into the jaw bone; an abutment that sticks out of the gum to attach to a dental restoration; and the restoration itself, which may be a crown, bridge, or denture, depending on each patient's unique situation.
Side Effects
The dental implants procedure begins with surgery to place the dental implant post. As with all surgical procedures, there are risks and side effects that may result after dental implant surgery. For Dr. Ajmo's patients in North Palm Beach, dental implant surgery side effects that should be expected after the surgical procedure include:
Swelling: After surgery, patients can expect the gums to be swollen for at least two to three days. In some cases, the swelling may extend to the cheeks as well.
Bruising: In addition to swelling, many patients may also notice bruising after surgery.
Pain: It is likely that a patient will experience mild to moderate pain after surgery. Dr. Ajmo will prescribe pain medication to keep discomfort to a minimum.
These are all normal side effects that should not be too severe. These symptoms should subside within the first week after surgery. With Dr. Ajmo's experience, combined with the latest advances in dental implant technology, it is likely that these side effects will be the only adverse effects of dental implant surgery.
Risks
In rare instances, patients may experience more serious complications. The risks of dental implant surgery include:
Infection: Some patients may develop an infection at the implant site. It is very important to care for the teeth and gums and practice good oral hygiene habits to avoid infection.
Nerve or tissue damage: While it is extremely rare, nerve or tissue damage can occur after dental implant surgery. This may result in pain, numbness, or a tingling of the gums, lips, or teeth. The best way to avoid nerve or tissue damage is to have dental implant surgery performed by an experience dental surgeon such as Dr. Ajmo.
Sinus problems: Another rare occurrence is for the sinuses to be damaged during implant surgery.
Implant failure: The biggest risk of dental implant surgery is having the implants fail. If the implants do not fuse properly to the jaw bone, they can become loose and may even fall out. Dr. Ajmo will examine your jaw bone to make sure he thinks it is healthy and dense enough to support the dental implants.
Schedule an Appointment
Dr. Jay L. Ajmo uses his skill and expertise to help his patients avoid complications following dental implant surgery. If you would like to find out if you are a good candidate for dental implants, schedule an appointment with Dr. Ajmo.
Categories:
Osseointegration, Dental Implants
Author:
Dr. Jay Ajmo
Date:
2015-06-26
We get many questions about the reason it can take up to a few months for dental implants to heal.  Though there are full mouth procedures where you can leave with a brand new smile in one day (Teeth Next Day), many times the implantation of one or a few dental implants must "osseointegrate" with your jaw.  Osseointegration is the fusing of the implant with your jaw bone.
OFFICE HOURS
Monday-Friday 8am - 5pm
Please feel free to give us a call or stop by anytime if you have a question or would like to schedule an appointment.
PGA Dentistry
Palm Beach Gardens Office
7100 Fairway Dr Ste 59
Palm Beach Gardens, FL 33418