Cosmetic Uses of Porcelain Crowns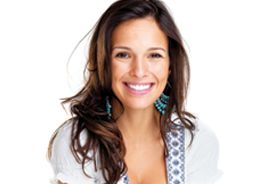 Dental crowns can successfully treat an injured or decayed tooth to restore its strength and protect it from further deterioration. However, the porcelain crowns that are used by Palm Beach cosmetic dentist Jay L. Ajmo can also be used as a cosmetic treatment for teeth that could benefit from aesthetic improvement.
Cosmetic Uses for Porcelain Crowns
Dr. Ajmo uses porcelain crowns because they offer patients the closest match to the natural tooth color and are the most aesthetically pleasing choice when it comes to dental crowns. Not only do these crowns offer the best color choice, but they are also opalescentso they react to light in a similar way to your natural teeth. Due to their natural appearance, it is difficult for others to tell that a dental fabrication has been placed in the mouth. When porcelain crowns are used, they can cover a tooth that is:
Severely stained or discolored
Misshapen
Visibly worn down
Cracked or broken
A size that does not blend in with the surrounding teeth
Missing
If any of these cosmetic flaws are present, a dental crown can be bonded into place over the existing tooth to give it an improved shape, color, and size. Since the porcelain crown encases the entire tooth, the appearance of the tooth will be improved from all sides and angles.
Benefits of Porcelain Crowns
Porcelain crowns are a good treatment choice for many of our patients. Porcelain crowns provide patients the benefit of simultaneously improving the appearance of the tooth and restoring its natural strength and function. The porcelain that is used in porcelain crowns is similar to that used in laminates and veneers. Porcelain crowns are strong enough to protect teeth against damage and since they cover the entire tooth they act as a barrier to protect the tooth from bacteria that cause tooth decay. Some additional benefits of porcelain crowns are:
Porcelain crowns are a natural looking dental restoration
Porcelain crowns can improve the shape, size, color, or length of the tooth
Porcelain crowns are a strong and long lasting cosmetic treatment
Porcelain crowns can be brushed and flossed along with your natural teeth and do not require any special care
Alternate Treatments
Even as a cosmetic treatment, porcelain crowns are best suited for teeth that are severely damaged or flawed. If a tooth is structurally sound and healthy, Dr. Ajmo is likely to recommend alternate cosmetic treatments to enhance the appearance of the teeth. For some of Dr. Ajmo's patients in Palm Beach, porcelain veneers or professional teeth whitening may be more appropriate cosmetic treatments.
Schedule an Appointment
It is Dr. Jay L. Ajmo's top priority to give his Palm Beach patients a smile that is equally healthy and beautiful. Porcelain crowns allow Dr. Ajmo to help many of his patients obtain that goal. Schedule an appointment with Dr. Ajmo to learn if you could benefit from porcelain crowns. We will set up a time that is convenient for you.
Categories:
Osseointegration, Dental Implants
Author:
Dr. Jay Ajmo
Date:
2015-06-26
We get many questions about the reason it can take up to a few months for dental implants to heal.  Though there are full mouth procedures where you can leave with a brand new smile in one day (Teeth Next Day), many times the implantation of one or a few dental implants must "osseointegrate" with your jaw.  Osseointegration is the fusing of the implant with your jaw bone.
OFFICE HOURS
Monday-Friday 8am - 5pm
Please feel free to give us a call or stop by anytime if you have a question or would like to schedule an appointment.
PGA Dentistry
Palm Beach Gardens Office
7100 Fairway Dr Ste 59
Palm Beach Gardens, FL 33418