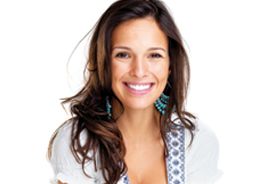 Palm Beach Gardens cosmetic dentist Jay L. Ajmo utilizes porcelain veneers to revitalize the smiles of his patients. Patients can achieve the healthy, beautiful, and symmetrical smile they have always wanted through porcelain veneers. Dr. Jay L. Ajmo can provide patients with subtle to dramatic smile transformations all through the use of porcelain veneers.
What Are Porcelain Veneers?
Porcelain veneers may be used to mask dental flaws including chips, cracks, stains, and gaps between teeth. They are the most aesthetically pleasing and natural-looking method of concealing cosmetic imperfections in teeth. Because of their ability to completely transform a smile, porcelain veneers are among the most popular cosmetic dental procedures performed today. For our cosmetic dentistry patients in Palm Beach Gardens, porcelain veneers are crafted from the finest-grade porcelain and are then fabricated to the precise specifications of each individual patient. This ensures that the porcelain veneers blend seamlessly into the patient's smile in terms of color, size, shape, and texture. By using only the highest quality porcelain veneers, patients can be assured of a beautiful, healthy smile.
Porcelain Veneers and Your Smile
Porcelain veneers are commonly referred to as "instant orthodontics." They may be used to improve minor orthodontic issues. In fact when porcelain veneers are used to close gaps between teeth, patients typically experience an improved bite. The strength, durability, and versatility that porcelain veneers provide make them an excellent treatment in both aesthetic and orthodontic issues.
Like natural enamel, porcelain is translucent. This is because porcelain shares the same light-reflecting properties of natural tooth enamel. Because it is translucent, porcelain allows some light to filter through its surface. As a result of this, porcelain appears natural-looking in the mouth. It may also be colored to look like natural teeth. Another advantage to using porcelain is that it is highly resistant to staining.  
Porcelain Veneers Cost
Porcelain veneers offer an aesthetically pleasing, inconspicuous, and highly effective way to address many dental imperfections. Your unique needs and goals are a key factor when determining the cost of your treatment. The health of your gums and teeth, and the amount of teeth to undergo treatment, are key factors when determining the cost of your porcelain veneers treatment. During your comprehensive dental examination we tailor a treatment plan and discuss the estimated costs of your customized treatments. Unfortunately, for many of our patients in Palm Beach, porcelain veneers are not covered by dental insurance. At PGA Center for Advanced Dentistry we strongly believe that finances should not prevent you from having the healthy, dazzling smile you deserve. To ensure that patients can afford the cosmetic and restorative dental care they need we have partnered with CareCredit. CareCredit offers patients many attractive and affordable ways to finance their much needed dental work, including long-term and low-interest loans.
Contact PGA Center for Advanced Dentistry Today
To learn more about porcelain veneers and to receive an estimate of their cost, or to schedule an examination, please contact PGA Center for Advanced Dentistry today. Our Palm Beach Gardens cosmetic dentist Jay L. Ajmo would be happy to answer any questions you may have.
Categories:
Osseointegration, Dental Implants
Author:
Dr. Jay Ajmo
Date:
2015-06-26
We get many questions about the reason it can take up to a few months for dental implants to heal.  Though there are full mouth procedures where you can leave with a brand new smile in one day (Teeth Next Day), many times the implantation of one or a few dental implants must "osseointegrate" with your jaw.  Osseointegration is the fusing of the implant with your jaw bone.
OFFICE HOURS
Monday-Friday 8am - 5pm
Please feel free to give us a call or stop by anytime if you have a question or would like to schedule an appointment.
PGA Dentistry
Palm Beach Gardens Office
7100 Fairway Dr Ste 59
Palm Beach Gardens, FL 33418