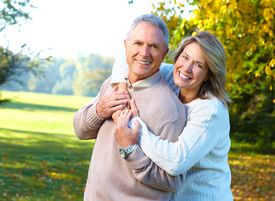 Modern removable dentures are more cosmetically appealing than ever before, but they can still be a hassle, making it difficult to speak and eat. Implant-supported dentures are a potentially ideal alternative, but dental implants require months to fuse with the jaw bone. If only there were a way to stabilize dentures without having to invest the time required by traditional dental implants.
Fortunately for patients of our North Palm Beach cosmetic dentistry practice, there is such a way: mini dental implants.
Mini dental implants are a revolutionary breakthrough in implant dentistry technology. They combine the security and longevity of traditional dental implants with the convenience of same-day service. For suitable candidates at our practice in North Palm Beach, mini dental implants offer an outstanding solution to removable dentures that slip out of place and fit uncomfortably in the mouth.
Whether you are a long-time denture wearer or you are just now considering dentures, we encourage you to learn more about mini dental implants by scheduling an appointment at PGA Center for Advanced Dentistry today.
What Are Mini Dental Implants?
Mini dental implants are also known as denture stabilization systems. Like traditional implants, mini implants are made of titanium to ensure durability and the success of the implant. Because titanium is not recognized as a foreign material by the human body, there is very little chance of implant rejection. The mini implant essentially becomes part of the anatomy.
Mini implants are smaller in diameter than their traditional counterparts. As a result, they do not require the same healing period as traditional implants (e.g., the osseointegration period, during which the implants fuse with the jaw bone).
It takes as little as an hour to place mini dental implants. Once in place, the implants are used to support your dentures via a fixture attached to the base of the dentures. You will leave our office with a newly secure smile.
At our practice in North Palm Beach, dental implants of the traditional variety are available to patients for whom mini dental implants are not a viable option.
Benefits of Mini Dental Implants
Mini dental implants offer two clear benefits over other methods of implant dentistry: they can often be placed in a day, and they are generally less expensive than traditional dental implants.
Aside from these advantages, mini dental implants offer similar benefits to traditional dental implants. They hold dentures securely in place so that there is no risk of slippage or shifting. Denture wearers will regain all of the control they had with their natural teeth and once more be able to chew, bite, speak, laugh, and smile with absolute confidence. As with all restorations crafted by our practice, your dentures will look entirely natural.
Learn More about Mini Dental Implants
If you are interested in learning more about how you might benefit from dentures supported by mini dental implants, we invite you to contact our North Palm Beach implant dentistry practice today.
Categories:
Osseointegration, Dental Implants
Author:
Dr. Jay Ajmo
Date:
2015-06-26
We get many questions about the reason it can take up to a few months for dental implants to heal.  Though there are full mouth procedures where you can leave with a brand new smile in one day (Teeth Next Day), many times the implantation of one or a few dental implants must "osseointegrate" with your jaw.  Osseointegration is the fusing of the implant with your jaw bone.
OFFICE HOURS
Monday-Friday 8am - 5pm
Please feel free to give us a call or stop by anytime if you have a question or would like to schedule an appointment.
PGA Dentistry
Palm Beach Gardens Office
7100 Fairway Dr Ste 59
Palm Beach Gardens, FL 33418