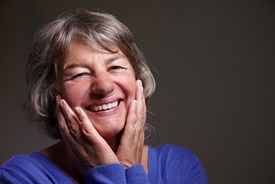 It can be stated without exaggeration that there is no method of replacing missing teeth as effective, natural, durable, and realistic as dental implants. However, experience matters when it comes to the surgical placement and subsequent restoration of implants. This is why West Palm Beach cosmetic dentist Jay L. Ajmo is the implant dentist of choice for so many South Florida residents.
Dr. Ajmo combines skill, extensive training, and state-of-the-art technology to produce results of the highest quality for patients of his practice in West Palm Beach. Dental implants are both placed and restored under a single roof, which is rare in dentistry. Many practices that promote implant dentistry services provide only the crowns, bridges, and dentures that are affixed to the implant posts. These practices have to refer patients out for the actual dental implant surgery.
Before deciding on whether you wish to replace your missing teeth with implant-supported restorations, it is important that you understand what the surgery entails. During your consultation with Dr. Ajmo, he will explain the procedure to you in detail and evaluate your candidacy. He will also explain any alternatives you may wish to consider. Throughout your treatment, he will listen to your concerns and goals, and he will help you to proceed with confidence and assurance in your decisions.
The Implant Surgery
In order to undergo dental implant surgery, it is important that you have sufficient jaw bone density to support the implant posts. If necessary, Dr. Ajmo may recommend bone grafting surgery in order to improve your candidacy for dental implants.
All dental implant surgeries are performed in our in-house surgical suite. We offer a range of sedation options, including oral conscious and IV sedation, to ensure your absolute comfort throughout the procedure.
Dental implants are titanium screws that are placed directly into the jaw bone, where they replicate the root structure of the missing tooth. During the first part of the surgery, the titanium implant is embedded in the jaw and, in most cases, and abutment is attached. This abutment is used to support a temporary restoration so that your mouth is able to function during the healing stage.
During this healing stage, a process known as osseointegration occurs. Osseointegration is the process through which the titanium post fuses with the jaw bone. Because titanium is not recognized as a foreign substance by the human body, the implant essentially becomes part of the patient's natural anatomy. As a result, implant rejection is quite rare.
The osseointegration process requires several months. At this point, the temporary restorations are removed to expose the underlying abutment. Your permanent restoration will be attached, and you will emerge with a healthy, functional, beautiful smile.
Dental implants are extremely versatile. Depending on your needs, they can be used to support a single crown, multiple crowns, a bridge, or even a full set of dentures. As a patient of Dr. Ajmo's, you can expect your dental implants to look, feel, and function just like natural teeth.
Learn More about Dental Implants
If you would like to learn more about dental implants or to schedule a consultation with Dr. Jay L. Ajmo, we urge you to contact our cosmetic dentistry practice in West Palm Beach today.
Categories:
Osseointegration, Dental Implants
Author:
Dr. Jay Ajmo
Date:
2015-06-26
We get many questions about the reason it can take up to a few months for dental implants to heal.  Though there are full mouth procedures where you can leave with a brand new smile in one day (Teeth Next Day), many times the implantation of one or a few dental implants must "osseointegrate" with your jaw.  Osseointegration is the fusing of the implant with your jaw bone.
OFFICE HOURS
Monday-Friday 8am - 5pm
Please feel free to give us a call or stop by anytime if you have a question or would like to schedule an appointment.
PGA Dentistry
Palm Beach Gardens Office
7100 Fairway Dr Ste 59
Palm Beach Gardens, FL 33418