Multiple Tooth Replacement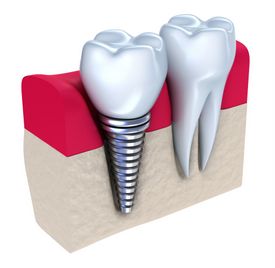 Modern dentistry offers a more extensive variety of highly effective and natural-looking ways to replace missing teeth than ever before. If you are missing multiple teeth, it is important that you seek treatment as soon as possible. Replacing your missing teeth will have profound effects not only on the appearance of your smile, but also on your oral and overall health.
West Palm Beach cosmetic dentist Jay L. Ajmo offers world-class dental implants to patients who wish to restore their smiles through the replacement of multiple missing teeth. As a method of replacing missing teeth, dental implants offer both cosmetic and oral health benefits that other restoration methods cannot match. Dr. Ajmo is one of the few dentists in Florida who has the training, skills, and resources to perform every stage of the dental implant process, from the surgical placement of the implant posts to their restoration with crowns, bridges, or dentures. And he is able to do so all in one convenient location.
Dental Implants to Replace Multiple Teeth
Dental implants are among the most versatile of all dental restoration methods in that they can be used to support anything from a single crown to a full set of dentures. This makes them ideal for replacing multiple missing teeth wherever gaps are located in the mouth.
If you are missing two or more non-consecutive teeth, a dental implant can be placed in each location where a gap exists. Individual crowns can then be attached to these implants to complete your smile.
However, if you are missing two or more consecutive teeth, an implant-supported bridge can be crafted for you. The bridge will consist of two dental crowns that are located on either side of one or more replacement teeth. These crowns will then be attached to dental implants to literally bridge the gap where the missing teeth used to be.
At our practice in West Palm Beach, dental implants can also be used to support partial or full dentures for patients who are missing all of their teeth on either or both the upper and lower jaw.
Oral Health Benefits of Replacing Missing Teeth
At our office in West Palm Beach, tooth replacement offers a number of important oral health benefits. When teeth are missing, the bone and gum tissues that once supported the teeth begin to degrade. This makes the mouth more susceptible to infection, including those that can compromise the health of the entire body. On an aesthetic level, this bone and gum degradation can lead to the hollowed out appearance commonly associated with missing teeth.
In addition, the teeth adjacent to a gap can start to drift toward the empty space, away from their optimal position. As a result, a person can suffer serious orthodontic issues, including malocclusion (i.e., a faulty bite).
Dental implants prevent these problems from occurring and help to restore optimum oral health.
Contact Our Practice Today
To learn more about the replacement of multiple missing teeth with dental implants, please contact our West Palm Beach cosmetic dentistry practice today.
Categories:
Osseointegration, Dental Implants
Author:
Dr. Jay Ajmo
Date:
2015-06-26
We get many questions about the reason it can take up to a few months for dental implants to heal.  Though there are full mouth procedures where you can leave with a brand new smile in one day (Teeth Next Day), many times the implantation of one or a few dental implants must "osseointegrate" with your jaw.  Osseointegration is the fusing of the implant with your jaw bone.
OFFICE HOURS
Monday-Friday 8am - 5pm
Please feel free to give us a call or stop by anytime if you have a question or would like to schedule an appointment.
PGA Dentistry
Palm Beach Gardens Office
7100 Fairway Dr Ste 59
Palm Beach Gardens, FL 33418