Meet Our Cosmetic Dentist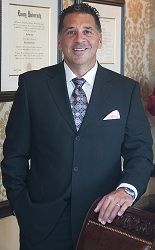 There are a few select dentists out there who possess a special combination of skill, knowledge, training, surgical ability, technical proficiency, and artistic sensibility. That combination becomes rarer still when it is augmented by compassion, empathy, and a talent for customizing procedures to meet the unique needs and goals of patients. For residents of Palm Beach, cosmetic dentist Jay L. Ajmo offers all of this and more.
For Dr. Ajmo, dentistry is not merely a profession - it's a passion. He truly cares about his patients, and puts nothing above their safety, comfort, and overall satisfaction. He takes the time to listen to patients and truly understand their motivations for seeking cosmetic dentistry. He uses the information he gathers to create treatment plans comprised of the most conservative measures available to produce the precise results his patients expect. And he finds nothing more personally fulfilling or gratifying than the moment when patients first see their new smiles and express their thanks.
If you are looking for a dentist who will provide you with care of the most surpassing standard while treating you with the kindness and respect you deserve, then you've found precisely that in Dr. Jay L. Ajmo.
Extensive Training and Experience
Since 1987, Dr. Ajmo has been honing his skills through advanced training and continuing education coursework. In an effort to bring his patients the most comfortable, pleasant dental experience possible, he has integrated both laser dentistry and sedation dentistry into his practice. His office features state-of-the-art technology and an in-house surgical suite, which allows him to perform complex oral surgery without having to refer patients out.
Dr. Ajmo is a master of both the comprehensive smile makeover and full-mouth restoration. The scope of his practice, in terms of both selection and quality of services, can be matched by only a handful of practices in the nation.
A Dentist Whose Reputation Precedes Him
Dr. Ajmo achieved Master's level certification from the world-renowned Rosenthal Institute for Aesthetic Dentistry. His remarkable skills were recognized by the television program Best of South Florida, by which he was named "South Florida's Most Distinguished Cosmetic Dentist." He was also named "Top Doctor" by Jupiter magazine.
Dr. Ajmo's skills across multiple disciplines further distinguish him from other cosmetic dentists in the area. He is one of the few dentists in Florida who is able to perform the surgical placement of dental implants and custom craft the implant-supported restorations all under a single roof. He is a fellow of the International Congress of Oral Implantologists and a master of the American Implant Dental Association for the surgical placement of dental implants.
Through all of the training and the accolades, however, Dr. Ajmo remains as humble as ever. His gentle hand and demeanor continue to endear him to patients throughout the region.
At his practice in Palm Beach, porcelain veneers, gum reshaping, implant dentistry, and many, many other treatments are available. He would welcome the opportunity to explain these and other world-class treatments to you during a one-on-one consultation. Contact PGA Center for Advanced Dentistry to schedule an appointment with Dr. Ajmo.
Categories:
Osseointegration, Dental Implants
Author:
Dr. Jay Ajmo
Date:
2015-06-26
We get many questions about the reason it can take up to a few months for dental implants to heal.  Though there are full mouth procedures where you can leave with a brand new smile in one day (Teeth Next Day), many times the implantation of one or a few dental implants must "osseointegrate" with your jaw.  Osseointegration is the fusing of the implant with your jaw bone.
OFFICE HOURS
Monday-Friday 8am - 5pm
Please feel free to give us a call or stop by anytime if you have a question or would like to schedule an appointment.
PGA Dentistry
Palm Beach Gardens Office
7100 Fairway Dr Ste 59
Palm Beach Gardens, FL 33418