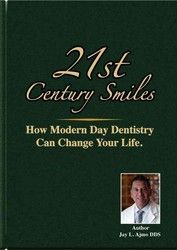 ​In the recent past there were not very many options for restoring a natural looking smile. Crooked teeth meant braces, cavities received dark grey metal fillings, and missing teeth were replaced with partials or ill-fitting dentures.
During the 20th Century dentistry progressed, but the real jumps in cosmetic procedures have come about in recent years.
During the first part of the 21st Century we have seen a rise in more comfortable techniques with better, more natural results. Patients no longer fear visiting the dentist thanks to the strides in dentistry techniques. ​​
From dental implants to full mouth reconstruction, Dr. Jay Ajmo has embarked on a journey to bring the story of cosmetic surgery to all. His new book series titled, 21st Century Smiles explains the science behind the beautiful smiles he and others in his field have helped create.
When considering a major dental procedure, most people have a ton of questions about what they can expect. It is hard to remember everything you need to ask the dentist during your consultation. The first book of Dr. Ajmo's series '21st Century Smiles' covers the details of many major cosmetic procedures in an easy to understand way so you can learn at your own pace. - Frank Tellemare, Jupiter FL
Procedures Explained in 21st Century Smiles Book Series
Dr. Ajmo has spent his career furthering his knowledge and skill in dentistry. His specialties include procedures that not only improve function of damaged teeth, but provide naturally beautiful smiles. The following procedures are covered in far more depth in throughout the 21st Century Smiles book series:
Dental Implants – The placement of dental implants is a complex surgical procedure that requires extensive training and experience to master. Throughout his career, Dr. Ajmo has been refining his approach to the art and science of implant dentistry, and has earned a reputation as a true innovator in the field, holding internationally recognized credentials in dental implant surgery and restoration.

Cosmetic Crowns – Crowns can be used to create a brand new smile. Old crowns can be replaced by the newer, stronger versions built today. Unlike crowns made ten to twenty years ago, crowns today are durable, natural looking and comfortable. Crowns can be matched to the color of your natural teeth and the newer material structures are less likely to discolor over time. Newer placement techniques can keep them in place for longer without losing position.

Implant Supported Dentures – Full-arch dental implants can eliminate the need for ill-fitting appliances and messy adhesives. Implant-supported dentures are securely anchored to the jaw bone with the same security as natural teeth. This stability allows you to use your dentures to bite into steaks and apples with complete confidence. If you are missing teeth, implant-supported dentures are the very best way to restore the balance, functionality, and appearance of your smile.

Full Mouth Reconstruction – In haste and hurry of day-to-day life, don't wait until you're enduring oral pain, tooth sensitivity, or impaired chewing and speaking ability before seeking a dentist's care. Teeth don't heal naturally, so a dentist's care is necessary. Full mouth reconstruction comprises one or more restorative dentistry procedures.

Porcelain Veneers – These cosmetic devices are used to cover the teeth and create a natural, white smile. If your teeth have damage, stains, or other imperfections then porcelain veneers can cover them perfectly. These veneers are thin porcelain shells that cover the teeth. They last for years when cared for properly.

Teeth Whitening – Most people are aware of how white teeth are during social outings. The popularity of whitening toothpastes are just one indicator of how obsessed we are with whiter teeth. There are several ways to create a whiter smile from light treatment to surface polishing.

Gum Contouring – Often patients will wonder if they have teeth that are 'too small'. Their smiles seem to be very gummy. The reason for this is often excess gum tissue, patient's almost always have teeth that are perfectly normal in size. Laser techniques are available to contour gums and recreate the perfect smile.

Straightening – While tooth straightening isn't just a cosmetic procedure, sometimes patients seek to have teeth that are perfectly straight but are not in need of serious braces. Their teeth may only be slightly out of line, but even for those with severe crooked teeth, options exist to avoid traditional braces. Invisible braces or slip on orthotics such as Invisalign, can be used.

No matter what procedure you are interested in learning more about, you'll find everything you every wanted to learn about Cosmetic, Restorative, and Implant dentistry in Dr. Jay L. Ajmo's book series: 21st Century Smiles.
Parts 1, 2, and 3 of 21st Century Smiles are now available. Each part is available for .95. To order your copy, email PGADentistry@yahoo.com today!
About the Author
Dr. Jay Ajmo has a long and distinguished history in the field of dentistry and is among the most highly trained cosmetic, implant, and restorative dentists in South Florida. Dr. Ajmo received his Doctorate of Dental Surgery in 1986 from Emory University School of Dentistry and completed further minor oral surgery training in Atlanta at Grady Memorial Hospital.
Dr. Ajmo has spent his life pursuing education. Thanks to this passion he has earned many prestigious certificates: Diplomate with the with the American Dental Association, Diplomadte Certification from the International Congress of Oral Implantologists, Mastership with the Misch International Implant Institute, Master's Level in Aesthetic Dentistry.
OFFICE HOURS
Monday-Friday 8am - 5pm
Please feel free to give us a call or stop by anytime if you have a question or would like to schedule an appointment.
PGA Dentistry
Palm Beach Gardens Office
7100 Fairway Dr Ste 59
Palm Beach Gardens, FL 33418