Full-mouth Reconstruction Can Improve Your Quality of Life
Video:
Ida's Testimony
Ida discusses replacing her dental crown and receiving a full mouth restoration with cosmetic porcelain crowns at our Palm Beach Gardens practice.
Enlarge Video
View All Videos
If your teeth suffer structurally and aesthetically, a full-mouth reconstruction can improve your oral health and the appearance of your smile. Designed to eliminate gum disease, tooth decay and damage, and pain, a full-mouth reconstruction can be performed in the comfort of our Palm Beach Gardens dental boutique. Dr. Jay Ajmo personally performs each reconstructive procedure in a single office to make rebuilding your smile a convenient and positive experience. If you would like to schedule a consultation with us, contact our practice today.
Comprehensive Consultation
A full-mouth reconstruction at PGA Center for Advanced Dentistry includes a private consultation with Dr. Ajmo, during which you can discuss your individual needs and requests. Guided by these suggestions, Dr. Ajmo will build a customized treatment plan to help you achieve a healthy, structurally sound, and aesthetically pleasing smile. Your initial appointment will include digital X-rays, photographs, and computer representations of how total oral health can be achieved.
Understanding the Procedure
IV sedation or oral conscious sedation can be used to make you feel comfortable during your reconstructive procedures. Every detail of your procedure will be determined by your individual needs and personal goals. Achieving the optimal result may require more than one visit to our office, but each time you come to PGA Center for Advanced Dentistry, we will welcome you with the same warmth and compassion. Dr. Ajmo has many years of experience providing highly successful results and exceeding the expectations of his patients. He will walk you through each step of the process to ensure that you are educated and prepared for your treatment. One of the services we are proud to offer to our valued patients is the management of reconstructive recovery. Once your full-mouth reconstruction is complete, we will monitor your healing progress and ensure that your gums, teeth, and jaw all adapt well to your new smile.
Featured Case:
Full Mouth Restoration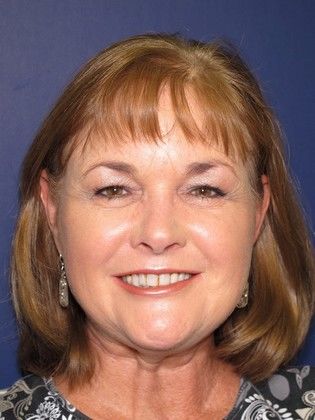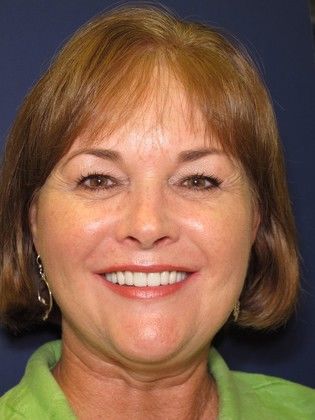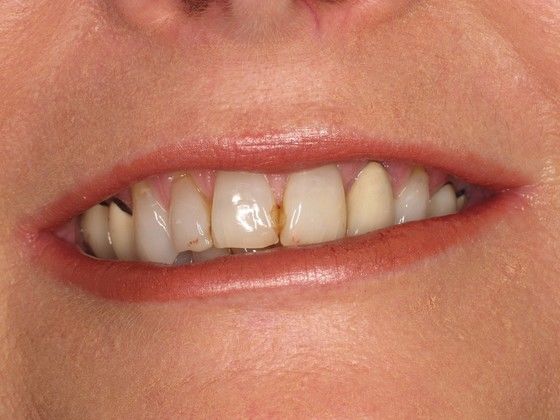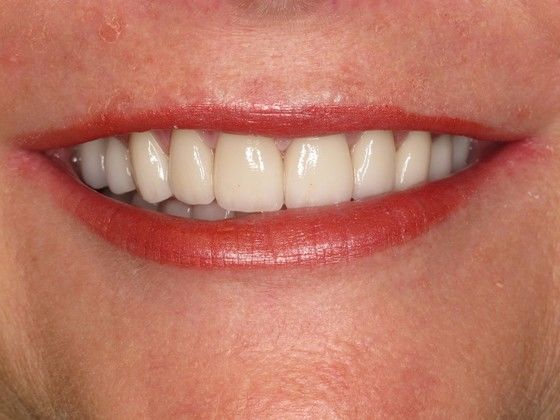 Elaine had older crowns on all of her back teeth and dental bonding on her front teeth. She had a deep overbite causing her lips to be unevenly supported. She underwent full mouth restoration with cosmetic porcelain crowns to replace her older crowns and cosmetic porcelain veneers on her front teeth to replace her bonding. Her entire mouth was restored to optimum health, function and aesthetics. Her bite was changed to reduce her overbite and establish more even lip fullness and balanced facial aesthetics. Actual patient of Dr.Jay Ajmo. PGA Center for Advanced Dentistry, PGADenstistry.com
Enlarge Case
View All Cases
The Benefits
A strong, healthy smile will improve your oral and overall health, and will even allow you to eat those once forbidden foods. A full-mouth reconstruction at our Palm Beach Gardens practice will result in a functional, healthy, beautiful, and youthful smile. Improving the aesthetics of your teeth will enhance the rest of your facial features to provide you with an all-inclusive result.
Candidacy
If dental anxiety has kept you from visiting the dentist for years, you've come to the right place. Between our gentle touch and our sedation dentistry options, there is no better team to trust. Years of neglect, dental infections, excessive wear and tear, missing teeth, and outdated restorations and fillings can all cause more serious oral conditions. If your teeth, jawbone, gums, or mouth are in poor condition, or if you suffer from the "collapsing face" caused by missing teeth, a full-mouth reconstruction may be the solution. A thorough examination and consultation with Dr. Ajmo will help determine whether reconstruction is right for you.
Get your complimentary consultation or 2nd
opinion from Dr. Ajmo today.
Schedule Your Free Consultation
or call (561) 627-8666
Learn More about Full-mouth Reconstruction
If you're looking for a way to rebuild your teeth from the root up to achieve a smile that will last a lifetime, contact PGA Center for Advanced Dentistry today. We provide full-mouth reconstruction for patients from Palm Beach Gardens, Palm Beach, Jupiter, and the surrounding area.